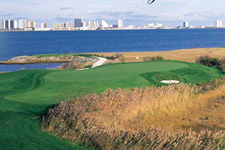 Designed by premier golf architect Arthur Hills, Lighthouse Sound is a 4 ½ Star Championship course that overlooks the Bay and Ocean City skyline. This exquisite championship course features marsh, river and bay on 15 of the 18 holes and offers a great variety in terms of visual excitement and strategy. The Links at Lighthouse Sound is home of the longest cart bridge in the United States, which spans nearly 1,500 feet. This bridge will take you from the bay side holes across to the pristine marsh side.

The course features the only consecutive holes in America playing to the same double green. The 508-yard, par five 2nd hole and the 190-yard, par three 3rd hole both lead to a 16,000 square foot green set along a tidal marsh of the Assawomen Bay.

The signature hole, the par three 5th hole plays directly over the marsh to a green surrounded by water on three sides. This hole plays from 89 to 218 yards, and also provides spectacular views of the Ocean City skyline.

The back nine holes play along the St. Martin's River and through the trees and marshland that have remained undisturbed throughout development of the land. The par three 11th hole and par five 12th hold play directly along the river.

As you journey through the course, you will notice the efforts to preserve and enhance the natural habitat. The course is designed to collect and recycle water. Storm water, nutrients and chemical runoff is collected through a system of elaborate underground drainage.

As Lighthouse Sound was constructed, every effort was made to avoid wetland impacts. You will travel over 2,000 feet on cart bridges; these bridges were built to avoid the wetlands having to be filled. In fact, during construction more than 12 additional acres of wetlands were created.

Lighthouse Sound has joined the Audubon Society and has initiated steps to become a fully certified Audubon Sanctuary. Through this program, the property's unique ecosystem of salt marshes, native forests, freshwater ponds and marsh, native grassland and large tidal pools will be protected. This unique ecosystem provides habitat for a variety of bird, animal and plant life.

Please take time to enjoy this unique and extraordinary setting as you play your round at Lighthouse Sound. It is through safeguarding the property's natural and pristine beauty that guests are provided with a truly unforgettable experience.