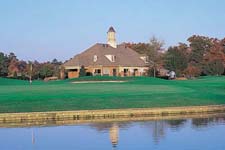 Nationally known golf course architects Ault, Clark & Associates have transformed a typically level Eastern Shore site into the beautiful rolling landscape that is Nutters Crossing Golf Club. The beautiful lush fairways roll over gently sloping hills, past eight water hazards and through a maze of over 50 bunkers, to rolling greens built to USGA specifications. Nutters Crossing Golf Club is strategically located off Rt. 50, just 25 miles west of Ocean City, Maryland. You will be welcomed with southern hospitality when you arrive at their classic colonial clubhouse. Have a relaxing meal before your game or tune up your swing at their extensive practice facilities.

Don't be fooled by the relatively modest back tee yardage. Water lurks on a dozen holes and even the most advanced player will be severely tested. Consistently recognized as one of the area's best-conditioned courses, Nutters Crossing offers two distinct layouts: the front side, which is wide open, gives players the chance to let out a little shaft on the tee, while the back side trails through woodlands and will provide a test of accuracy all the way home.

Whether you are hosting a tournament, group outing, or just out for a day on the links, their professional staff will work with you to make your visit to Nutters Crossing an enjoyable one. Memberships are available with player privileges at sister courses, Rum Pointe and Lighthouse Sound.